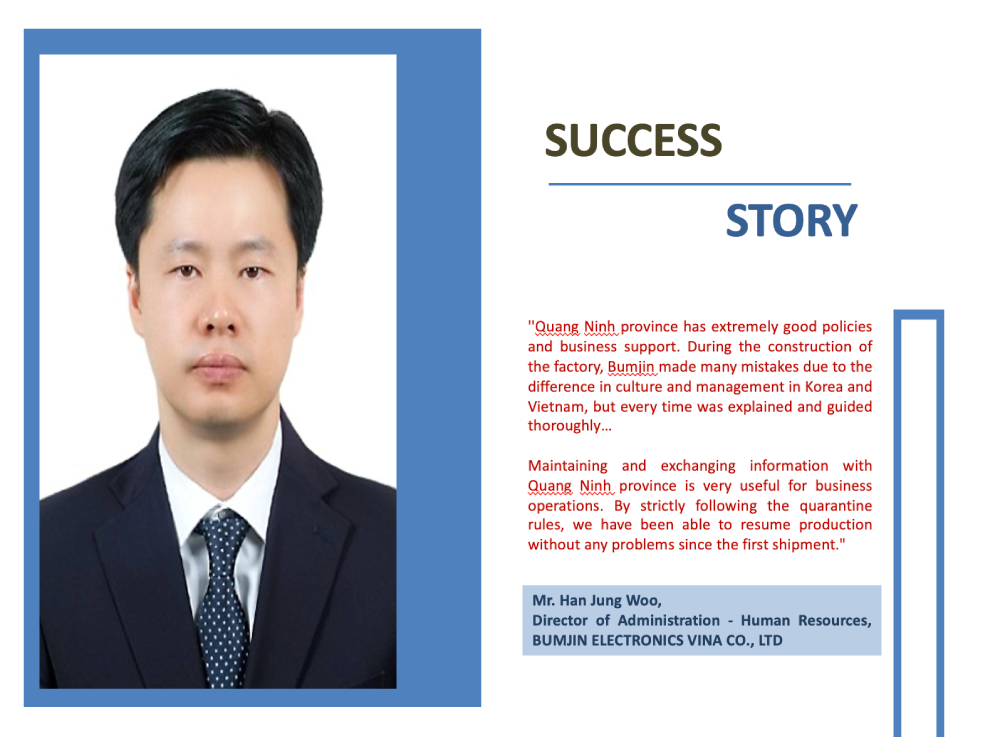 I. SUCCESS STORY
Bumjin Company (Korea) decided to invest in Vietnam for the first time because of its belief in a high average annual growth rate of about 6%/year (in 2019 it was 7.02%). We believe in the operation of export ports, human resources, the diligence of the Quang Ninh government and the will of the Quang Ninh people.
Some comparative advantages of Quang Ninh are:
The first is the location condition.
Quang Ninh province, where Dong Mai Industrial Park is located, is one of the economic triangles in Northern Vietnam along with Hanoi and Hai Phong. In Quang Ninh, there is a port that can directly load and unload containers, the logistics system, Van Don airport, the Hanoi - Hai Phong - Ha Long highway and the National Road 18 connecting Bac Ninh and Bac Giang have been well connected. It is a necessary condition for Bumjin, which exports 100% of its products to the world.
Secondly, Quang Ninh has extremely good policies and business support. During the construction of the factory, Bumjin made many mistakes due to the difference in culture and management in Korea and Vietnam, but each time was explained and guided thoroughly.
So, despite the new culture and environment of Vietnam, we were still able to proceed with the construction and operation of the project well. In addition, before the situation of the Covid-19 epidemic, Quang Ninh province was forced to comply with quarantine rules and take measures to not interfere with production activities.
At the same time, maintaining and exchanging information with Quang Ninh province is very useful for the operation of businesses. By strictly following the quarantine rules, we have been able to resume production without any problems since the first shipment.
Third is the young workforce. The average age of our factory employees is 20 years old. Youth means intense passion and a spirit of challenge, and such youth aligns with Bumjin's vision to grow with customers and create a unique organizational culture.
I was also surprised that there were more staff who worked in Korea and could speak Korean than I expected. In particular, about 30 Vietnamese employees who joined the company in the early stages of establishment were able to well perform all the processes from establishment, factory construction, Quang Ninh Province gave maximum support to the company to complete the process. into project progress
Along with the above favorable conditions, the first shipment of Bumjin Vina Quang Ninh Electronics Co., Ltd in April 2018.
---
II. INVESTMENT PROJECT INFORMATION
+ Project name: Bumjin Electronics Vietnam.
+ License date: October 21, 2019.
+ Revenue: 113,000,000 USD (plan for 2021).
+ Business: Audio products/parts.
+ Address: Dong Mai Industrial Park, Quang Yen Town, Quang Ninh Province.
+ Factory area: 60,000 m² (floor area: 49,195 m²).
+ Number of employees: 1,002 people (as of September 15, 2021).