---
Action program on the development of the Red River Delta region
19/02/2023
The Government promulgates the Resolution on the Government's action program to implement the Politburo's Resolution on socio-economic development and assurance of national defense and security in the Red River Delta.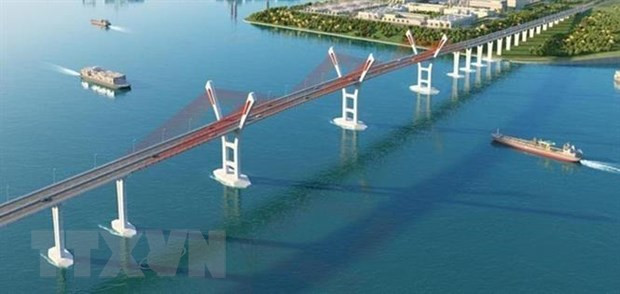 Perspective of Ben Rung bridge connecting Thuy Nguyen district, Hai Phong city) with Quang Yen town, Quang Ninh province. (Photo: Hoang Ngoc/VNA)
On February 8, the Government issued Resolution 14/NQ-CP Action plan of the Government to implement Resolution No. 30-NQ/TW dated November 23, 2022 of the Politburo on socio-economic development. Association and ensure national defense and security in the Red River Delta until 2030, with a vision to 2045.
The formulation and issuance of Resolution 14/NQ-CP was built on the basis of closely following the viewpoints and objectives stated in Resolution No. 30-NQ/TW in order to build the Red River Delta as a modern development region. civilization, ecology; is a major economic and financial center of regional and world level; the country's leading center for culture, education-training, science-technology, innovation, development of the digital economy, digital society, health and people's health care; socio-economic infrastructure, synchronous, modern, intelligent; urban system linked into a network, smart, green, and sustainable, suitable to a particularly important strategic position in terms of politics, economy, culture, society, environment, national defense, security and public relations. foreign country.
The capital Hanoi has become a globally connected city, developing on a par with the capitals of developed countries in the region and the world.
Striving to 2030, the average GRDP growth in the period 2021-2030 will reach about 9%/year.
By 2030, regional GRDP will increase about 3 times compared to 2020 (current prices), of which agriculture, forestry and fishery will account for about 3.5%, industry and construction will account for about 47%, and services will account for 41. %, product tax minus subsidies accounts for about 8.5%. GRDP per capita is about 274 million VND/person/year.
The average growth rate of social labor productivity is over 7%. The average contribution of total factor productivity (TFP) to growth in the period 2021-2030 is 55%. The digital economy accounts for about 35% of GRDP.
The urbanization rate is over 55%. 100% of communes meet new rural standards, of which at least 50% of communes meet new advanced rural standards, 20% of communes meet model new rural standards. The rate of poor households according to multidimensional standards decreases by about 1.5%/year.
---