---
Dong Trieu Town: Improving the efficiency of investment attraction
13/02/2023
The town is having many solutions to promote and attract investment in order to contribute to completing the local work theme in 2023: "Improve the efficiency of investment attraction, the quality of people's life, complete construction model new countryside and established Dong Trieu city".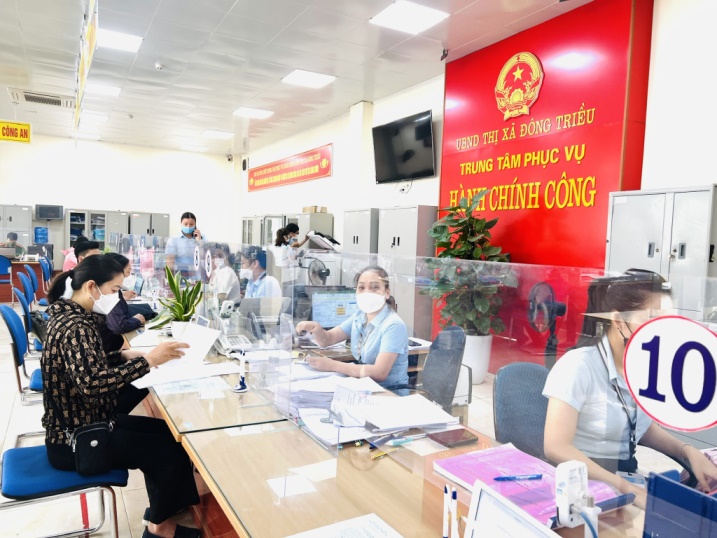 The Town Public Administration Center is dedicated to handling administrative procedures for people and businesses.
In the plan to implement the work topic in 2023, the town has proposed solutions to implement groups of targets, in which special attention is paid to the group of indicators of investment attraction. The town will support investors to complete legal procedures related to planning, investing in starting construction of Trang An Industrial Park; complete the procedures for approving the investment policy of Dong Trieu 1 Industrial Park and housing, social, cultural and sports facilities for workers of the industrial park, with an area of about 200ha; promoting the search for secondary investors to invest in the above mentioned industrial parks and industrial zones.
The town implemented planning and established Yen Tho Industrial Park. At the same time, to attract investment in a concentrated livestock area in An Sinh commune (about 36ha); High-tech breeding pig and meat pig farm in Trang Luong commune (about 80ha); High quality inter-school in Kim Son ward; a number of urban development and social housing projects: Hong Phong urban area in Hong Phong ward, 45.9ha; Tho Trang urban residential area in Yen Tho ward, 12.1ha; Residential area in Vinh Tuy 1 area, Mao Khe ward, 7.1 ha...
The town supports investors to complete the investment procedures and work in projects that have been approved for investment policies; and at the same time approve the investor to implement: Industrial solid waste treatment and recycling plant in An Sinh commune; Thuy An Viet beverage factory in Thuy An commune; Hano - Vid urban area in Thuy An commune; Cemetery Park in An Sinh Commune...
Mr. Nguyen Van Ngoan, Chairman of the town's People's Committee, said that in order to improve the efficiency of investment attraction, the town will implement a series of solutions, such as: Promote planning, build infrastructure ; innovate and improve efficiency in investment promotion; promote administrative procedure reform, support businesses; improve the quality of human resources to meet the requirements of enterprises and investors; building an image of office culture and a friendly image in the staff.
As for solutions for planning and infrastructure construction, the town will accelerate the completion of the Dong Trieu urban development program to 2040, adjusting the zoning plans according to the adjustment of the General Plan. town until 2040, as a basis for the implementation of detailed plans in the town. The town publically and transparently implements the approved construction plannings according to regulations so that investors and people can understand information, which is both a necessary condition for promoting, introducing and attracting investment in the market. commune; review, examine and adjust land use planning, construction planning and other planning to attract investment projects in line with socio-economic development orientations of provinces and towns. At the same time, focus on removing difficulties in land clearance work, creating a clean land fund to attract investors; speeding up the progress of compensation and site clearance, meeting the requirements and investment progress of projects; review the public land fund being used for improper purposes and ineffectively for recovery, as a basis for formulating plans to attract investment for each land area...
Especially, with innovative solutions, improving efficiency in investment promotion, the town continues to strengthen investment promotion on the spot by solving difficulties and obstacles for businesses and investors; supporting projects that have been decided on investment policies; directly work with investors to determine the list of projects to expand production and business in accordance with the investor's capacity and potential and strengths of the town. At the same time, strengthen the organization of dialogue activities with enterprises and investors to promptly solve difficulties, problems, proposals and recommendations of investors; actively support projects, especially projects on production and tourism service development, which are motivational to create spillovers in the area...
---