---
Promote logistics development
23/02/2023
With a coastline of nearly 250km, and a transport infrastructure system such as seaports, highways, and many border gates and openings, Quang Ninh has many potentials and opportunities to develop logistics services. Up to now, many logistics development infrastructures have been exploited and invested by the province, facilitating trade for logistics enterprises through the area, contributing to improving the province's competitiveness.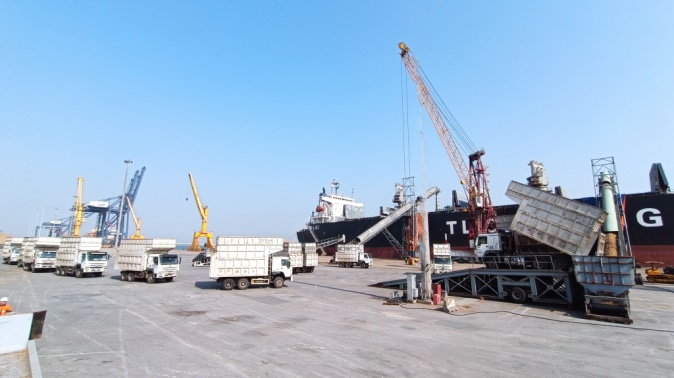 Loading and unloading activities at Cai Lan port.
Strengthening activities to attract investment and develop logistics infrastructure is one of the priority tasks of the province over the past time. Solutions to promote investment promotion on the spot, take care of investors, establish and strengthen the Japan Business Support Department (Japan Desk), the Korean Investment Support Department (Korea Desk) to promote investment attraction for projects, including seaport and logistics projects from key markets such as Japan, Korea, etc., initially promoting its role in connecting international organizations economic. Thereby, helping investment promotion activities, supporting businesses in the field of seaports and logistics to develop synchronously.
Mr. Koen Soenens, Sales and Marketing Director of Bac Tien Phong Industrial Park said: Currently, we have had secondary investment projects and are expected to deploy these projects in the IP with a total land use area. 70ha. At the same time, we will also prepare about another 100ha of infrastructure to be ready to welcome new investors. The investor's goal is to build an industrial park suitable for a variety of industries and improve logistics advantages for businesses in addition to the completed infrastructure connections available today. We have high expectations for the development of infrastructure in logistics activities in Quang Ninh.
Up to now, many large enterprises have been interested in, researched, researched and invested in projects that are port and logistics infrastructure projects such as: Sunrgroup, T&T Group, Ben Thanh Group, VINACOMEX, Indochina Group …. Many projects of seaports, logistics, and technical transport infrastructure have been invested and built. Typically, such as Van Ninh General Port Project (phase 1) of Van Ninh International Port Joint Stock Company, total investment of 2,248.5 billion VND; Ao Tien high-class port in Ha Long commune, Van Don district; LNG gas power plant in Cam Thinh ward, Cam Pha city (with seaport component)... A number of projects are completing their application for approval of investment policy at the same time as investor approval. Yen Hung Liquid Port project proposed by Yen Hung Liquid Goods Joint Stock Company with a total investment of about 778.2 billion VND in Nha Mac Dam area; The project is interested by investors, proposes to research and implement (general port and container project in Con Ong - Hon Net area), in Cam Pha city, proposed by Tuan Chau Group to study the project. Seaport investment project with a total capital (expected) of more than 1 billion USD (equivalent to about 22,825 trillion VND)...
---